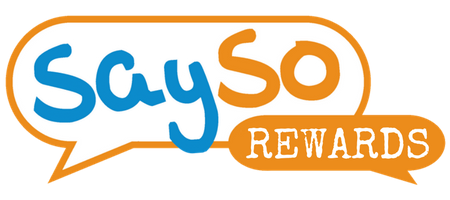 Participant Terms & Conditions
Last Updated: February 24, 2020
BINDING EFFECT.

This is a binding agreement (the "Agreement") between you and Research For Good Inc.("RFG"), which owns and operates SaySo Rewards ("SSR"). Any references in this Agreement to SSR are also references to RFG. By using the "Site" (defined as the SaySo Rewards iFrame, Offerwall or the SaySo website) or any services provided in connection with the Site (the "Services"), as they are provided by SSR, you agree to abide by this Agreement, as it may be amended by SSR from time to time in SSR's sole discretion. It is your responsibility to review this Agreement periodically, and if at any time you find this Agreement unacceptable, you must immediately leave the Site and cease all use of the Services and the Site. 
BY USING THE SITE OR THE SERVICES YOU REPRESENT THAT EITHER (A) YOU ARE AT LEAST 18 YEARS OLD AND YOU ARE LEGALLY ABLE TO ENTER INTO THIS AGREEMENT; OR (B) IF YOU ARE UNDER THE AGE OF MAJORITY IN YOUR JURISDICTION, YOUR PARENTS HAVE READ THIS AGREEMENT AND AGREE TO IT ON YOUR BEHALF.
BY USING THE SERVICES OR ACCESSING THE SITE, YOU ACKNOWLEDGE THAT YOU HAVE READ THIS AGREEMENT AND AGREE TO BE BOUND BY IT.
GRANT OF LICENSE.

You are granted a limited, non-exclusive license only to use the Site and access the Services at the discretion of SSR; no other license under any invention, patent, copyright, trade secret, or other proprietary right is granted, either directly or indirectly.
PRIVACY POLICY.

SSR respects your privacy and permits you to control the treatment of your personal information. A complete statement of the SSR's current privacy policy (the "Privacy Policy") can be found by clicking 

HERE

. The Privacy Policy is expressly incorporated into this Agreement by this reference. You expressly acknowledge and give consent to SSR for your data entered into the Site or through your use of the Services to be transferred outside the European Union or other jurisdiction where you are located to SSR and the computer systems on which the SSR Services are hosted (located in various data centers globally), in accordance with this Agreement, including the Privacy Policy, and applicable law. 
FEES.

Some products and services available through or in connection with this Site, including without limitation the ability to execute a financial transaction using this Site, require that you purchase a subscription or otherwise pay a fee. You hereby authorize SSR and its merchant provider to charge your credit card in advance for all applicable fees incurred by you or on your behalf in connection with the product or service you have chosen to use. You are solely responsible for all charges, fees, duties, taxes, and assessments arising out of your use of the Site or the Services. SSR reserves the right in its sole discretion to change the amount of, or basis for determining, any fees or charges for services it provides, and to institute new fees, charges, or terms at any time. SSR reserves the right to terminate your ability to use the Site at any time for any reason. Your right to use the Site to complete a financial transaction is subject to any expenditure limits established by SSR or by your bank, credit card issuer or other financial institution. If you use a debit, credit or other payment card, and payment cannot be charged to your card or your charge is returned for any reason, including chargeback, SSR reserves the right to either suspend or terminate your access to the Site or the Services, thereby terminating this Agreement and all obligations of SSR hereunder. If you have reason to believe that your financial information is no longer secure (for example, in the event of a loss, theft or unauthorized disclosure or use of any credit, debit, or charge card number stored), you must notify SSR of the problem to avoid possible liability for any unauthorized charges. It is your responsibility to notify SSR if your credit card has changed or has expired and to make appropriate changes or your use of the Services may be disconnected or interrupted.
USER REWARDS.

Through your use of the Site and in connection with your use of the Services, you may have the opportunity to accumulate rewards, incentives and entries into prize draws or sweepstakes ("Rewards") made available by SSR, SSR's clients ("Clients") or SSR's partners ("Reward Partners"). Rewards may be in the form of points or dollars. Information, official rules and terms and conditions for Rewards, prize draws or sweepstakes may be available in this Agreement, on the Site, at the beginning or end of a survey, in survey invitations, on the website(s) or webpage(s) for redeeming Rewards, incentives, and prizes, and/or may be described in any newsletter or other communication distributed or published by SSR. You agree to provide truthful and well-considered answers to all survey questions. SSR reserves the right to withhold awarding any applicable incentives or rewards to users, or reverse any rewards, if, in SSR's reasonable view, your survey question responses are untruthful or not well considered. 
With respect to Rewards, you agree to the following:
(a) Your participation in a survey or other research opportunity ("Research") is based on your desire to share opinions and provide feedback.
(b) Any consideration that is paid to a your participation in the Research is not calculated based on time you spent on the Research.
(c) Likewise, any consideration that is paid to you for your participation is not pro-rated on an hourly basis or otherwise.
(d) You are voluntarily participating in the Research, without control or direction of SSR or RFG and you are exercising independent judgment and discretion.
ALL REWARDS POSTED TO A USER'S ACCOUNT SHALL EXPIRE ONE (1) YEAR FOLLOWING POSTING, UNLESS THE REWARDS ARE FORFEITED OR CANCELLED EARLIER DUE TO MEMBERSHIP OR ACCOUNT INACTIVITY OR AS OTHERWISE SET FORTH IN THIS AGREEMENT.  
Participant accounts are not actual bank or financial accounts and do not accrue or accumulate interest of any kind. Rewards posted in connection with the Services do not constitute property of the user, cannot be transferred during or after the user's life, by operation of law or otherwise, and have no value until presented by the user for redemption in accordance with this Agreement. In the event that any Rewards have been erroneously posted to a user's account, SSR may remove them from the user's account. Rewards will be deducted from the user's account at the time the redemption request is made. All redemptions are final and Rewards may not be returned for credit except as otherwise provided in this Agreement or as otherwise agreed to in writing by an authorized representative of SSR. The minimum Reward redemption threshold is the equivalent of Twenty United States Dollars ($20) unless the user's account is at least thirty (30) days old or older, in which case the minimum Rewards redemption threshold is the equivalent of one United States cent ($0.01). Unless there is a lower redemption option available, if you do not satisfy the foregoing threshold, you will not have a redemption option under SSR's rewards program. SSR reserves the right to provide Reward options with lower minimum redemption thresholds without prior notice to, or consent from, you. SSR may modify, alter, delete or add new terms and conditions for its Rewards program or the Services at any time without notice. For SSR this includes, but is not limited to, modifying, altering, adding or deleting point values, redemption levels, conversion ratios, conditions for status, conditions for membership and conditions for earning incentives or rewards, at any time without notice. In addition, SSR may terminate or cease offering any Reward in connection with SSR's rewards program, at any time without notice. You may not combine your points or points with points or dollars belonging to any other member, including, but not limited to, any family member or friend. SSR is not, and will not be, liable or responsible for the performance of, or for the failure of the performance of, any product or service for Rewards are redeemed. In addition, SSR is not and will not be responsible or liable for any cost, damage, accident, delay, injury, loss, expense or inconvenience that may arise in connection with the use of, or defect in, any product or service for which Rewards are redeemed. SSR will not replace any lost, stolen, misplaced or damaged incentives or rewards.
YOU HEREBY EXPRESSLY ACKNOWLEDGE AND AGREE THAT THE REWARDS EARNED THROUGH THE SERVICES MAY BE SUBJECT TO TAX, WHICH IS THE SOLE RESPONSIBILITY OF THE USER. SSR may provide you and/or the appropriate government agency or taxing authority with information related to any payments or incentives you earn in connection with your use of the Services. You agree to provide SSR with all required information to assist SSR in complying with its reporting or withholding obligations. SSR may withhold any tax from any incentive or reward as required by applicable law.
In addition to other Rewards, SSR may offer users the opportunity to receive entries into SSR prize draws. In the event that entries are offered, please see the Prize Draw Official Rules provided in relation to such prize draws. The prize draw may not be available as an incentive option for all panels, applications, or in all countries. Please check your specific panel or application for more details. SSR uses reasonable efforts to ensure that Rewards are credited and debited appropriately; however, users should review their account to ensure that their account correctly identifies the posted Rewards, and reflects all of the appropriate redemption transactions. If you feel that your account was not credited or debited correctly or reflects incorrect redemption transactions, please send an email to sayhi@researchforgood.com. Any email sent to SSR should include the user's name, email address and specific information on the subject matter. SSR will use reasonable efforts to investigate the matter and to respond back to the user promptly. SSR's decision is final and binding. The suppliers or providers of the products or services offered in connection with SSR's Rewards program and/or the owners or operators of the website(s)/webpage(s) on which redemption transactions occur, may have their own terms and conditions; please review these terms and conditions carefully.
Personal information may have to be collected, processed and/or disclosed in connection with SSR's Rewards program and/or any request to redeem a reward or incentive. By agreeing to this Agreement, you hereby agree to the collection, processing and/or disclosure of your personal information for such purpose(s) and all such personal information shall be subject to the terms set forth in SSR's Privacy Policy. If a user elects to donate Rewards to one of the charities approved by SSR, SSR will donate said Rewards to the selected charity. The donation is not made by or on behalf of SSR and SSR does not and will not match any donation. Please note that the donation option is not available in relation to every Services provided by or on behalf of SSR. Please check the redemption options available relating to the Services being provided. Your daily limit on the redemption of Rewards is limited to the equivalent of Three Hundred United States Dollars ($300). If you have reached this daily limit, you will not be able to redeem any further points or dollars until the next calendar day. In the United States, SSR has an obligation to: (i) provide a W-9 tax form to individuals who receive payments (whether via the redemption of Rewards or other means) of $600 or more in a tax year and (ii) file a 1099-Misc form with the United States Internal Revenue Service ("IRS") for such payments. In addition, SSR will provide you with a completed 1099-Misc form for your tax compliance purposes. As a result, please see the following: (1) If you have received payments of $599 during a tax year, your account will be suspended (i.e., you will not be able to receive further payments and will not be able to complete or participate in surveys) for the remainder of the applicable tax year unless and until you provide SSR with a completed and verified W-9 form; (2) If you are a U.S. resident and have received payments of $600 or more during a tax year, your account will be suspended indefinitely (i.e., you will not be able to receive further payments and will not be able to complete or participate in surveys) unless and until you provide SSR with a completed and verified W-9 form. In this case, your account will not be reinstated at the beginning of the next tax year, unless or until you provide SSR with a completed and verified W-9 form.
ALLEGED VIOLATIONS.

SSR reserves the right to terminate your use of the Services and/or the Site in its sole discretion. To ensure that SSR provides a high quality experience for you and for other users of the Site and the Services, you agree that SSR or its representatives may access your usage records on a case-by-case basis to investigate complaints or allegations of abuse, infringement of third party rights, or other unauthorized uses of the Site or the Services. SSR does not intend to disclose the existence or occurrence of such an investigation unless required by law, but SSR reserves the right to terminate your account or your access to the Site or the Services immediately, with or without notice to you, and without liability to you, if SSR believes that you have violated any of this Agreement, furnished SSR with false or misleading information, or interfered with use of the Site or the Services by others.
RELATIONSHIP.

You acknowledge you are accessing the Site and the Services in the capacity of an independent contractor, and no agency, partnership, join venture, employee-employer, or franchisor/franchisee relationship is intended or created by this Agreement.
NON-DISCLOSURE.

Information and content made available to you through the Site or the Services may contain trade secrets or other confidential or proprietary information of SSR or our Clients, suppliers, or licensors. You must hold in strict confidence, and not disclose to any other person, any information or content you access or learn in connection with your participation in any survey, project, questionnaire, or other activity related to the Services. You are prohibited from sharing with any third party photographic or other imagery, information, or any other content from your activities with respect to the Services. You must not use any such information or content for any purpose other than your participation in the Services in accordance with this Agreement. You hereby agree to notify SSR immediately if you learn of or suspect any use or disclosure of, or access to, any such information or content other than as specifically authorized in this Agreement. Without limiting any other rights SSR may have under this Agreement, you acknowledge and agree that (a) SSR will cooperate with our Clients, suppliers, or licensors in aggressively protecting the confidential or other intellectual property of our Clients and others, and (b) you may be held legally responsible for your violation of this Section 8 and may be required to indemnify SSR, in accordance with Section 13, for your violations of this Section 8.  
NO WARRANTIES.

SSR HEREBY DISCLAIMS ALL WARRANTIES.  THE SITE AND THE SERVICES ARE OFFERED ON AN "AS IS" AND "AS AVAILABLE" BASIS WITHOUT WARRANTY OF ANY KIND. YOU ASSUME THE RISK OF ANY AND ALL DAMAGE OR LOSS FROM USE OF, OR INABILITY TO USE, THE SITE OR THE SERVICES. TO THE MAXIMUM EXTENT PERMITTED BY LAW, SSR EXPRESSLY DISCLAIMS ANY AND ALL WARRANTIES, EXPRESS OR IMPLIED, REGARDING THE SITE, INCLUDING, BUT NOT LIMITED TO, ANY IMPLIED WARRANTIES OF MERCHANTABILITY, FITNESS FOR A PARTICULAR PURPOSE, OR NONINFRINGEMENT. SSR DOES NOT WARRANT THAT THE SITE OR THE SERVICES WILL MEET YOUR REQUIREMENTS OR THAT THE OPERATION OF THE SITE OR THE SERVICES WILL BE UNINTERRUPTED OR ERROR-FREE.
LIMITED LIABILITY.

IN NO EVENT SHALL SSR, ITS AFFILIATES, OR ANY OF THEIR RESPECTIVE OFFICERS, DIRECTORS, EMPLOYEES, AGENTS, SUCCESSORS, SUBSIDIARIES, SUPPLIERS, AFFILIATES, OR THIRD PARTIES PROVIDING INFORMATION ON OR THROUGH THE SITE OR THE SERVICES BE LIABLE TO ANY USER OF THE SITE OR THE SERVICES OR ANY OTHER PERSON OR ENTITY FOR ANY INDIRECT, SPECIAL, INCIDENTAL, PUNITIVE, CONSEQUENTIAL, OR EXEMPLARY DAMAGES (INCLUDING, BUT NOT LIMITED TO, DAMAGES FOR LOSS OF PROFITS, LOSS OF DATA, OR LOSS OF USE) ARISING OUT OF THE USE OR INABILITY TO USE THE SITE OR THE SERVICES, WHETHER BASED UPON WARRANTY, CONTRACT, TORT, OR OTHERWISE, EVEN IF SSR OR ANY OF THE RELATED PARTIES NAMED ABOVE HAS BEEN ADVISED OF OR SHOULD HAVE KNOWN OF THE POSSIBILITY OF SUCH DAMAGES OR LOSSES. 
IN NO EVENT SHALL THE TOTAL LIABILITY OF SSR, ITS AFFILIATES, OR ANY OF THEIR RESPECTIVE OFFICERS, DIRECTORS, EMPLOYEES, AGENTS, SUCCESSORS, SUBSIDIARIES, SUPPLIERS, AFFILIATES, OR THIRD PARTIES PROVIDING INFORMATION ON THE SITE OR THE SERVICES FOR ALL DAMAGES, LOSSES, AND CAUSES OF ACTION RESULTING FROM YOUR USE OF THE SITE OR THE SERVICES, WHETHER IN CONTRACT, TORT (INCLUDING, BUT NOT LIMITED TO, ACTIONS BASED ON NEGLIGENCE) OR OTHERWISE, EXCEED THE GREATER OF: (1) THE TOTAL DOLLAR VALUE OF ALL REWARDS YOU HAVE ACCUMULATED IN THE TWELVE (12) MONTHS PRECEDING THE DISPUTE OR (2) ONE HUNDRED AND FIFTY DOLLARS ($150). ANY CLAIM OR CAUSE OF ACTION ARISING OUT OF OR RELATED TO USE OF THE SITE, THE SERVICES OR THIS AGREEMENT MUST BE FILED WITHIN ONE (1) YEAR AFTER SUCH CLAIM OR CAUSE OF ACTION AROSE.
AFFILIATED SITES.

SSR has no control over, and no liability for any third party websites or materials. SSR may, from time to time, work with a number of partners and affiliates (each, a "Partner") whose Internet sites may be linked with the Site. Because neither SSR nor the Site has control over the content and performance of these Partner sites, SSR makes no guarantees about the accuracy, currency, content, or quality of the information provided by such sites, and SSR assumes no responsibility for unintended, objectionable, inaccurate, misleading, or unlawful content that may reside on those sites. Similarly, from time to time in connection with your use of the Site, you may have access to content items (including, but not limited to, websites) that are owned by third parties. You acknowledge and agree that SSR makes no guarantees about, and assumes no responsibility for, the accuracy, currency, content, or quality of this third party content, and that, unless expressly provided otherwise, this Agreement shall govern your use of any and all third party content.
PROHIBITED USES.

SSR imposes certain restrictions on your permissible use of the Site and the Services. You are prohibited from violating or attempting to violate any security features of the Site or Service, including, without limitation, (a) accessing content or data not intended for you, collecting any personally identifiable information of or about any other user of the Services, or logging onto a server or account that you are not authorized to access; (b) using spiders, robots or other automated data mining techniques to catalogue, download, store or otherwise reproduce or distribute data or content available in connection with the Services, or to manipulate the results of any survey, prize draw or contest, or attempting to probe, scan, or test the vulnerability of the Site, or any associated system or network, or to breach security or authentication measures without proper authorization; (c) interfering or attempting to interfere with service to any user, host, or network, including, without limitation, by means of submitting a virus, corrupted data or any other harmful, disruptive or destructive code, file or information, including, but not limited to, spyware to the Site, overloading, "flooding," "spamming," "mail bombing," or "crashing;" (d) using the Site to send unsolicited e-mail, including, without limitation, promotions, or advertisements for products or services; (e) opening, using, or maintaining more than one (1) membership account with SSR; (f) forging or masking your true identity; (g) framing a portion(s) of the Site within another website or altering the appearance of the Site; (h) establishing links from any other website to any page of, on or located within the Site or to the Services, without the prior express written permission of SSR; (i) posting or transmitting any threatening, libelous, defamatory, obscene, pornographic, lewd, scandalous or inflammatory material or content or any material or content that could otherwise violate applicable laws; (j) engaging in any fraudulent activity, including, but not limited to, speeding through surveys, taking the same survey more than once, masking or forging your identity, submitting false information during the registration process, submitting false or untrue survey data, redeeming or attempting to redeem rewards, prizes and/or incentives through false or fraudulent means, and tampering with surveys; (k) forging any TCP/IP packet header or any part of the header information in any e-mail or in any posting; (l) attempting to modify, reverse-engineer, decompile, disassemble, reveal, disclose, or otherwise reduce or attempt to reduce to a human-perceivable form any of the source code used by SSR in providing the Site; (m) engaging in any criminal or illegal act(s); or (m) encouraging and/or advising any individual, including, but not limited to, any SSR employee, to commit any act(s) prohibited hereunder. Any violation of system or network security may subject you to civil and/or criminal liability.
INDEMNIFICATION.

You agree to indemnify, defend, and hold harmless SSR, its affiliates, officers, directors, employees, consultants, agents, and representatives from any and all third party claims, losses, liability, damages, and/or costs (including reasonable attorney fees and costs) arising from your access to or use of the Site, your violation of this Agreement, or your infringement, or infringement by any other user of your account, of any intellectual property or other right of any person or entity. SSR will notify you promptly of any such claim, loss, liability, or demand, and will provide you with reasonable assistance, at your expense, in defending any such claim, loss, liability, damage, or cost.
COPYRIGHT.

All contents of Site or Services are: Copyright © 2011 Research For Good, Inc. All rights reserved. You may use the Site's, Client's, Partner's or Reward Partner's content, service or software only as expressly authorized by SSR, the Client, the Partner or the Reward Partner.
USER CONTENT.

You are solely liable and responsible for all content, materials, information and comments you use, upload, post or submit in connection with the Services ("User Content"). You are solely responsible for all third party approvals, consents and/or authorizations required for User Content. If you submit User Content, the User Content may become publicly available and may be shared with third parties including, but not limited to, SSR's Clients, Clients of SSR's Clients, and third party service providers. User Content should only include audio, video, images or the likeness of the individual submitting the User Content and should not contain copyrighted or trademarked content or material of any third party. User Content should not include audio, video, images, or the likeness of anyone other than the user. You will not receive compensation for any User Content. If you would like information about the identity of the sponsor of a survey in which you submit photos or videos, please contact SSR as set forth in SSR's Privacy Policy. In order to identify the specific survey, you will need to provide SSR with your email address and information on the specific survey (e.g., survey number, survey topic or subject matter, date you completed the survey, etc.). By using, uploading, posting or submitting User Content in connection with the Services, you hereby grant to SSR a perpetual, irrevocable, unlimited, transferrable, sub-licensable, world-wide, royalty free, right and license to edit, copy, transmit, publish, display, create derivative works of, reproduce, modify, distribute and otherwise use, modify or distribute your User Content in any manner, without compensation or notice. You are solely responsible for User Content. SSR does not and cannot review all User Content and SSR is not responsible for User Content. SSR reserves the right to delete, move or edit User Content that is, in SSR's sole discretion, deemed to: (i) violate this Agreement, (ii) violate copyright or trademark laws, or (iii) be abusive, defamatory, obscene or otherwise unacceptable.
PROPRIETARY RIGHTS.

You acknowledge and agree that all content (other than User Content), materials, text, images, videos, graphics, trademarks, logos, button icons, music, software, and other elements available on the Site or the Services are the property of SSR, our licensors, or our Clients and are protected by intellectual proprietary rights and other laws and regulations. You agree not to sell, license, rent, distribute, copy, reproduce, transmit, publicly display, publicly perform, publish, adapt, edit, modify, or create derivative works from any content or materials on the Site or the Services.
DMCA POLICY.

If you believe material located on the Site or the Services violates your copyright, you are encouraged to notify us in accordance with the Digital Millennium Copyright Act ("DMCA") policy outlined herein. We will respond to notices of alleged copyright infringement that comply with applicable law and are properly provided to our designated copyright agent ("Copyright Agent"). Our designated Copyright Agent to receive notifications of claimed infringement is:
Research for Good
1037 NE 65th St #80212
Seattle, WA 98115
Attn: Privacy Compliance Officer
For clarity, only DMCA notices should go to the Copyright Agent; any other feedback, comments, requests for technical support, and other communications should be directed to sayhi@researchforgood.com. DMCA notices and counter-notices are only accepted to address copyright infringement claims and are not the proper method to report other legal claims. You acknowledge that if you fail to comply with all of the requirements of this section, your DMCA notice may not be valid, and that there are legal sanctions that can apply for certain knowing and material misrepresentations in DMCA notices.
In the case of a user who may infringe the copyrights or other intellectual property rights of SSR or others, we may, in our discretion, terminate or deny access to the Services. Please note that it is SSR's policy, in appropriate circumstances, to terminate the accounts of users who are repeat infringers or are repeatedly charged with copyright infringement. If you are a copyright owner or an agent thereof and believe that any content on the Site or the Services infringes on your copyrights, you may submit a notification pursuant to the DMCA by providing our Copyright Agent with the following information in writing (see 17 U.S.C 512(c)(3) for further detail):
(a) A physical or electronic signature of a person authorized to act on behalf of the owner of an exclusive right that is allegedly infringed;
(b) Identification of the copyrighted work claimed to have been infringed, or, if multiple copyrighted works at a single online site are covered by a single notification, a representative list of such works at that site;
(c) Identification of the material that is claimed to be infringing or to be the subject of infringing activity and that is to be removed or access to which is to be disabled and information reasonably sufficient to permit the service provider to locate the material, including all URLs where the allegedly offending material is posted;
(d) Information reasonably sufficient to permit SSR to contact you, such as an address, telephone number, and, if available, an electronic mail;
(e) A statement that you have a good faith belief that use of the material in the manner complained of is not authorized by the copyright owner, its agent, or the law; and
(f) A statement that the information in the notification is accurate, and under penalty of perjury, that you are authorized to act on behalf of the owner of an exclusive right that is allegedly infringed.
DISPUTES, GOVERNING LAW.

This Agreement shall be construed in accordance with and governed by the laws of the United States and the State of Washington, without reference to their rules regarding conflicts of law. You hereby irrevocably consent to the exclusive jurisdiction of the state or federal courts in the City of Seattle, King County, Washington in all disputes arising out of or related to the use of the Site or Services. Persons using this Site who are residents of a country outside of the United States must comply with any and all local laws and restrictions as they pertain to the use of this Site.
CLASS ACTION WAIVER.

Unless restricted or prohibited by law as against public policy, any action under or relating to this Agreement, the Site, or the Services, whether before a judge or jury or pursuant to judicial reference, will take place on an individual basis, without resort to any form of class or representative action ("Class Action Waiver"). THIS CLASS ACTION WAIVER PRECLUDES ANY PARTY FROM PARTICIPATING IN OR BEING REPRESENTED IN ANY CLASS OR REPRESENTATIVE ACTION REGARDING A CLAIM UNDER THIS AGREEMENT. Regardless of anything else herein, the validity and effect of the Class Action Waiver may be determined only by a court.
SEVERABILITY; WAIVER.

If, for whatever reason, a court of competent jurisdiction finds any term or condition in this Agreement to be unenforceable, all other terms and conditions will remain unaffected and in full force and effect. No waiver of any breach of any provision of this Agreement shall constitute a waiver of any prior, concurrent, or subsequent breach of the same or any other provisions hereof, and no waiver shall be effective unless made in writing and signed by an authorized representative of the waiving party.
NO LICENSE.

Nothing contained on the Site should be understood as granting you a license to use any of the trademarks, service marks, or logos owned by SSR or by any third party.
WASHINGTON USE ONLY.

The Site is controlled and operated by SSR from its offices in the State of Washington. SSR makes no representation that any of the materials or the services to which you have been given access are available or appropriate for use in other locations. Your use  or privilege of doing business in any state or jurisdiction other than Washington.
MODIFICATIONS.

SSR may, in its sole discretion and without prior notice, (a) revise this Agreement; (b) modify the Site and/or the Services; and (c) discontinue the Site and/or Services at any time. SSR shall post any revision to this Agreement to the Site, and the revision shall be effective immediately on such posting. You agree to review this Agreement and other online policies posted on the Site periodically to be aware of any revisions. You agree that, by continuing to use or access the Site or the Services following notice of any revision, you shall abide by any such revision.
Need more info? Please send us a message. We love hearing from you.