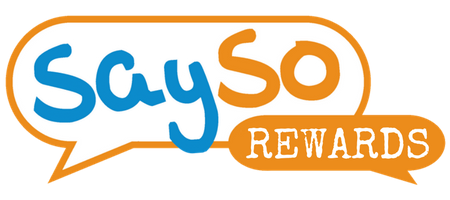 You complete online surveys and offers
COMPLETE A TASK
Share your opinions on the products & services you use by completing surveys. Your voice can be heard by the big brands!
EARN REWARDS
When you come to us from one of our partner sites, you can earn rewards from that partner for every completion. Rewards may vary.
ONE FOR ONE
In addition to any reward you earn, we donate a meal to our charity partner Action Against Hunger for every complete!
We are an online market research company, with a purpose. Our corporate mission is to end childhood deaths from hunger and malnutrition globally by making incremental donations for every completed task by SaySo Rewards participants.
You participate in online offers or anonymous surveys about your preferences, passions, likes and dislikes and, depending on how you come to us, we thank you for your time by making a donation to Action Against Hunger (and through rewards earned on the site that referred you). For example, if you're playing your favorite mobile game, but want to earn more game currency, you may see SaySo Rewards surveys offered as an opportunity to earn lives without having to spend real money. You take a survey, the game rewards you with lives AND we donate a meal to Action Against Hunger. How good is that?
You give your opinions, brands and companies improve their products and services, and the world is made a little bit better with each complete.
Our donation model is simple; completing online surveys through SaySo Rewards equates to meals for hungry children around the world through our charity partner Action Against Hunger.
The more you complete through us, the more meals we donate.
Have questions, comments or suggestions? Check out these useful links or drop us a message. We love to hear from you!