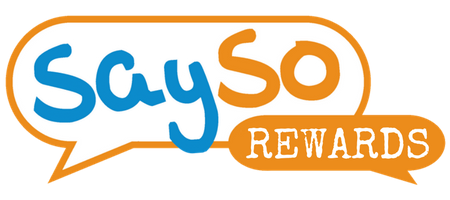 Privacy Policy
Data provided by Participants in the profile and pre-screen process is collected and processed by the SaySo Rewards website ("SaySo"), a website maintained by Research For Good Inc. ("RFG" or "we") located at 1037 NE 65th St #80212, Seattle, WA 98115.
RFG is committed to protecting the privacy and confidentiality of our Participants' information. Our services offer Participants the opportunity to take part in market research and express their opinions on a broad range of topics. Our clients and research partners depend on this information to make many decisions that affect the products and services in the global marketplace. Any data that we collect for a study is reported only in aggregate, and specific information regarding individuals is never viewed or published. All information gathered by SaySo/RFG is provided the highest level of security.
This privacy policy covers the site www.SaySoRewards.com as well as SaySo iFrame and SaySo OfferWall properties that are embedded on partner sites. This policy does not cover third-party sites linked to via the SaySo online properties. Before sharing any personal or personally identifiable information on third-party sites please refer to their specific posted privacy policies.
This is an opt-in program. Participants may choose to participate or not participate at their discretion.
For All Non-US Residents: RFG may transfer some Participant information to and process it in the United States for the purposes of participating in the SaySo program. By submitting information to the SaySo website or via the SaySo Offerwall or SaySo iFrame, Participants consent to such transfers taking place.
What We Gather: In order to participate in surveys, Participants need to provide demographic and general consumer information as well as limited personal information. This information is used to help identify the types of studies most in line with a person's buying habits, interests, or product usage.
Personally Identifiable Information (PII): From time to time Participants may be asked to provide personally identifiable contact information (phone or mobile number, email address or physical mailing address). Sharing this information with RFG through the SaySo online properties is completely voluntary and optional. Opting to not share this information may prevent a Participant from participating in specific market research opportunities, but every effort will be made to offer that Participant alternate survey opportunities which do not require PII.

RFG may provide personally identifiable information to our Clients and third parties for, including and without limitation, the following purposes: (i) the augmentation of Participant information with statistical information available from a third party, (ii) independent auditing and/or verification of participant data for quality control purposes, and (iii) contacting the Participant in the event of a breach of security or non-compliance with our Terms & Conditions. Except as otherwise provided here, we do not sell or transfer your information to third parties, unless in aggregate form or for research purposes that you have explicitly previously agreed to. We do not collect or process sensitive data such as social security numbers.
When our Sponsors, our Reward Partners, our Recruitment Partners, our Marketing Partners, our Clients and other third parties receive personally identifiable information from RFG, they are required to sign legally binding agreements that hold them accountable to the Council of American Survey Research Organization's ("CASRO") "Standards Regarding Disclosure of Respondent-Identifiable Data to Clients." By entering into this agreement with RFG, our Sponsors, our Recruitment Partners, our Marketing Partners, our Rewards Partners, our Clients and other third parties agree that their use of survey response data will be limited to research purposes and that all personally identifiable information will remain confidential. Unless you provide consent, personally identifiable information that is shared with our Sponsors, Reward Partners, Recruitment Partners, Marketing Partners, Clients and other third parties will not be transmitted to further parties and will not be used in conjunction with sales and/or marketing communications or promotions.
We do not share, sell, rent or trade personally identifiable information with third parties for their promotional purposes.
We reserve the right to disclose personally identifiable information as required by law when we believe that disclosure is necessary to protect our rights and/or comply with a judicial proceeding, court order, or legal process served on our website.
In the event that RFG goes through a business transition, such as a merger, acquisition by another company, or sale of all or a portion of its assets, Participant's personally identifiable information will likely be among the assets transferred. Participants will be notified via email or a prominent notice on our website for thirty (30) days of any such change in ownership or control of personal information.
Access to Your Information; Member Ability to Update, Correct, or Delete Information: Upon request, RFG will provide you with information about whether we hold any of your personal information. You may access, correct, or request deletion of your personal information, or terminate your membership by logging into your member account. By following the appropriate directions, your information should be automatically updated in our database. For these purposes, and if you are unable to correct your personal information yourself via the account, you may contact us by email at privacy@researchforgood.com. We will respond to all requests within a reasonable timeframe. If you terminate your membership, we will retain your personal information until your personal information is eventually destroyed in accordance with our policies and we will continue to employ the security procedures and technologies to keep your personal information safe.

Opt-Out Policy: Except as provided herein, RFG will never sell nor share the information collected from any individual Participant with any third parties. The information is used only for determining which Participants are qualified to take market research studies. Information may be shared in aggregate to our clients.
Children And Parents: The SaySo program is not designed nor intended for use by children under the age of 13. Children under 13 may not submit any personally identifiable information to us, and if we discover that we have inadvertently gathered any such information for a child under 13, we will take appropriate steps to delete it. Children over 13 should only provide us with personally identifiable information if they have explicit permission from a parent or legal guardian. If you are under 18, you should not use our site or properties unless a parent or guardian is present or has given their consent. If your child has submitted personally identifiable information, and you wish to delete such information please contact us at the address provided below. RFG's SaySo program adheres to the Children's Online Privacy Protection Act.
Cookies: Many web sites use "cookies" to help personalize a Participant's online experience. A cookie is a text file that is placed on the hard drive of a computer by a web page server. Cookies cannot be used to run programs or deliver viruses to your computer. Cookies are uniquely assigned to you, and can only be read by a web server in the domain that issued the cookie to you. You have the ability to accept or decline cookies. Most web browsers automatically accept cookies, but you can usually modify your browser setting to decline cookies if you prefer. If you choose to decline cookies, you may not be able fully experience the interactive features of the services or web sites you visit.
SaySo's Use of Cookies: A cookie is simply a small text file containing information about the user that is placed by a website on the user's hard drive. SaySo's Website, Offerwall and iFrame places persistent cookies on your computer when you complete the registration questionnaire, and places a session cookie on your computer while you are participating in a survey or viewing the SaySo Website, Offerwall and iFrame without logging in. The SaySo program uses the persistent cookie to recognize you when you visit our Website, Offerwall and iFrame so that we may provide you with customized pages based on information in your Participant account or profile. The SaySo Website, Offerwall and iFrame use session cookies to maintain your session state across user requests. Session cookies are used to record when you complete a survey, how much of the survey you complete, the country from which you are viewing and what language you are using to view the website. We may also use cookies to track certain information about you based upon your activity on our site or on a third party's site. This information may include the URL that you just came from (whether this URL is on our site or not), which URL you next go to (whether this URL is on our site or not), what browser you are using, and your IP address. We do not associate information stored in our cookies to personally identifiable information you submit to us while using the SaySo Website, Offerwall and iFrame. We reserve the right to share this information in an anonymous singular summary and aggregate form with third parties.

Participants can refuse to accept cookies by adjusting the privacy settings of your Web browser software. However, if you do not allow cookies from the SaySo Website, Offerwall and iFrame, you may not be able to use all of the features of the SaySo properties.

Digital Fingerprinting: From time to time, RFG, the SaySo online properties or our survey hosting partners may employ Digital Fingerprinting to ensure data quality and prevent duplicate responses. In general, digital fingerprinting technologies assign a unique identifier or "Machine-ID" to a user's computer to identify and track the computer. RFG and SaySo online properties will not use digital fingerprinting technology (the "Technology") to collect Personal Information, or track the online activities, of the user of a computer; and will not disrupt or interfere with the use or control of a computer or alter, modify or change the settings or functionality of a computer. RFG will use the Technology to assist RFG clients in ensuring the integrity of survey results. The Technology will analyze publicly available information and data obtained from the computer's web browser and from other publicly available data points, including without limitation the technical settings of the computer, the characteristics of the computer, and the computer's IP Address, to create a unique identifier assigned to the computer. The unique identifier will be an alphanumeric id. After creating the unique identifier, RFG does not retain the information analyzed by the Technology to create the unique identifier. In furtherance of RFG's efforts to assist its clients in protecting and ensuring the integrity of survey results, RFG (a) may link or associate your unique identifier to you and any of your Personal Information; (b) may share your unique identifier with RFG clients and with other sample or panel providers; and (c) may receive or obtain a unique identifier linked to you from a third party, including without limitation a sample or panel provider or a client of RFG. Any unique identifier(s) received or obtained by RFG and linked to a specific individual will be protected in accordance with this Privacy Policy.

RFG shall use commercially reasonable efforts to ensure that the Technology is safe, secure and does not cause undue privacy or data security risks.
RFG shall use and distribute the Technology in a professional and ethical manner and in accordance with (a) this privacy policy, (b) any statements and/or disclosures made by RFG or the SaySo program to respondents, and (c) applicable Laws and Codes.
In the event that RFG discovers or learns of any unethical conduct in connection with the use of the Technology, or that the Technology is being used in a manner that is inconsistent with the statements and/or disclosures made by RFG to SaySo participants or in violation of applicable Laws and Codes, RFG will take immediate action to prohibit such unethical conduct and to ensure the proper administration of the Technology.

Security: RFG adheres to strict rules that ensure every aspect of our data is secure. Access to all profile information is restricted to key personnel in order to prevent the loss, misuse, and unauthorized alteration of the information under our control. Our security policies and procedures are reviewed regularly to ensure that we utilize standard technology and internal processes that best protect Participants' information. All questions are screened to ensure that they are appropriate and specific to their intended use. Unless required by law or regulation, we will never ask for your social security number. Due to the technological world we live in and the constant threat to Internet security we can only be held liable for a breach of security if it is due to the negligence of RFG and within the control of RFG to have prevented it from occurring. If someone hacks into our site for the purpose of stealing our data, we cannot be held accountable for such action except to prosecute such an individual to the fullest extent that the law provides.
Other Websites and Surveys: This site contains links to other Internet sites that are not operated or controlled by RFG and that are not part of the SaySo Website, Offerwall and iFrame. The purpose of these links is to direct Participants to the market research opportunities and surveys hosted by our research clients. We cannot control and are not responsible for the privacy practices or the content of such websites.
Legal Disclaimer: RFG may be required by law to disclose personal information in order to comply with a current judicial proceeding, court order, or legal process served on our Company or the SaySo website. In such an event we will make every commercially reasonable effort to notify individuals that such an action has been taken and at the same time divulge such information as has been subpoenaed after conferring with our attorney.
Business Transfer: At any time RFG could choose to sell or transfer part or substantially all of its business assets as part of a private business transaction (e.g., merger, IPO, sale), which could include the market research division. Any business transaction of this nature would only be to an entity or corporation that agreed to comply with all of the terms and conditions of our privacy policies. Any changes that such a company or entity would make to the privacy provisions of this document would require pre-notification to all Participants of such changes and new intentions regarding the use of the information.
Privacy Shield: RFG and the SaySo program are committed to complying with the EU-US Privacy Shield Framework as set forth by the U.S. Department of Commerce regarding the collection, use, and retention of personal information transferred from the European Union to the United States and is subject to the investigatory powers of the Federal Trade Commission, the Department of Transportation and any other U.S. authorized statutory body. To provide adequate protection for certain EU Personal Data about individuals RFG has elected to self-certify to the EU-US Privacy Shield Framework administered by the US Department of Commerce ("Privacy Shield"). RFG is responsible for the processing of personal information it receives, under the Privacy Shield and subsequent transfers to a third party acting as an agent on its behalf. RFG adheres to the Privacy Shield Principles of Notice, Choice, Accountability for Onward Transfer, Security, Data Integrity and Purpose Limitation, Access, and Recourse, Enforcement, and Liability. For more information about the Privacy Shield, see the US Department of Commerce's Privacy Shield website located at https://www.privacyshield.gov. To review RFG's representation on the Privacy Shield list, see the US Department of Commerce's Privacy Shield self-certification list located at: https://www.privacyshield.gov/list.  For problems, disputes or questions, or to view the information we have on file for you, you may contact us at privacy@researchforgood.com ATTN: Privacy Shield Officer. We will investigate and attempt to resolve any complaints or disputes regarding the use or disclosure of your personal information within 45 days of receiving your complaint. If you have an unresolved privacy or data use concern that we have not addressed satisfactorily, please contact our U.S.-based third party dispute resolution provider (free of charge) at https://www.jamsadr.com/file-an-eu-us-privacy-shield-or-safe-harbor-claim.  You may also report unresolved privacy disputes to any of the following bodies: Federal Trade Commission, US Department of Commerce. RFG will work with you and independent bodies to ensure that concerns and disputes are adequately resolved. Under certain conditions, more fully described on the Privacy Shield website located at https://www.privacyshield.gov/article?id=How-to-Submit-a-Complaint, you may invoke binding arbitration when other dispute resolution procedures have been exhausted.
CASRO Code Of Standards: RFG complies with the Code of Standards followed by the Council of American Survey Research Organizations (CASRO) or any successor organization. All the responsibilities and requirements embodied in the Code of Standards for respecting Participants' rights, reporting to Clients, and ensuring ethical and responsible research practices are followed by RFG. You may see the CASRO Code of Standards here.
Changes To This Privacy Policy: If any changes are made to our privacy policy practices, we will post them on a prominent place on our website to ensure that users are constantly aware of policy changes that affect the information we collect.
For assistance or comments regarding the www.SaySoRewards.com website, properties or our privacy statement, please contact: privacy@researchforgood.com.
Need more info? Send us a message, we love hearing from you.